WHO WE ARE
HappyDot.sg is an online survey community for Singapore residents.
We are a channel for Singapore residents to voice their opinions on issues that impact Singapore. Our survey topics are varied, and range from housing and healthcare, to understanding the aspirations of Singaporeans.
We believe that understanding how Singaporeans think, feel and act will help build a happier Singapore and that is why we call our community the 'HappyDot'.
HappyDot.sg is owned by RySense, a Singapore-based research organisation.
WHY US
A Community Made for Singapore
HappyDot.sg is created in Singapore and run by Singaporeans. We want to provide a dedicated channel for Singapore residents to share real views on topics that impact life in this dot we call home.
Earn Attractive Rewards
Earn points by sharing your thoughts on HappyDot.sg and redeem them for great vouchers or contribute to a good cause.
Find Out What Singapore Thinks
Discover what your fellow Singapore residents think about current Singapore issues. As a HappyDot.sg member, you will receive updates on the results of our community polls. You can even submit questions of your own – and be rewarded if we feature them on our site!
Read more about our survey findings and join us.
ABOUT OUR COMMUNITY OF HAPPYDOTTERS
HappyDotters are the much loved and respected full members of HappyDot.sg. You can become a HappyDotter if you are a Singapore resident above 15 years of age.
HappyDotters have agreed to contribute their views about living in Singapore through short surveys and research. Together, we can bring the HappyDot.sg vision to life: to make Singapore a better place for you and me.
OUR LOGO
THE IMPRINT OF SINGAPORE
Our original HappyDot.sg logo is designed with multitudes of colour depicting our unity in diversity. The vibrant HappySpheres and expressive gradients represent the many heartbeats of Singaporeans coming together to influence the nation and create a brighter, happier future for all.
As a bolder representation, our latest logo builds on the shape created by the HappySpheres and unites them with a single, solid colour "mark" for better impact and recognition. The red echoes the colour of our Singapore flag, highlighting our identity as a community that cares about our nation's future, and the strength brought forth when we unite as one.
The opinions of HappyDotters will continue to contribute to the greater cause of creating a better future for Singapore, our home. We hope this "mark" will help rally Singaporeans to join in the charting of Singapore's direction for generations to come.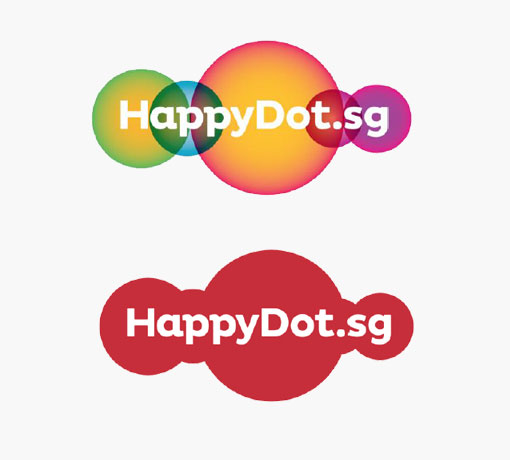 VISION & MISSION
OUR MISSION
To provide a channel for Singapore residents to share their thoughts and feelings, and be heard.
OUR VISION
To build a happier Singapore.