Take Surveys, Get Rewarded!
HappyDot.sg is a local, online survey community for Singapore residents for all ages and culture (YES, including a young squad like you too!).

We celebrate diversity and aim to inspire a better future for you and for Singapore – one survey at a time.


Join, Share, Earn
Take our surveys to share your thoughts on hot-button topics in Singapore such as education, digital tech, and climate change.

Earn HappyPoints from the surveys and accumulate them to redeem for exciting E-Vouchers!


Keep it 💯 with HappyDot.sg – a little dot with BIG voices.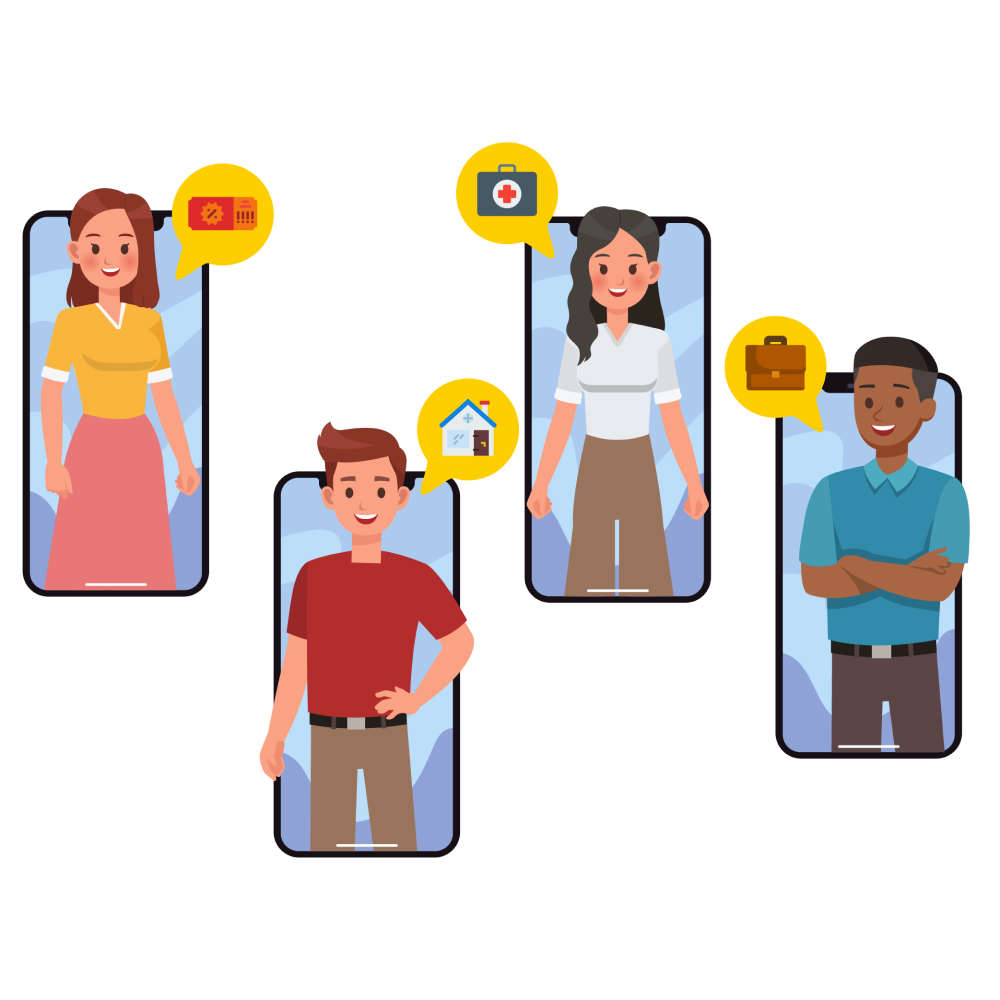 Get that coin
with our Rewards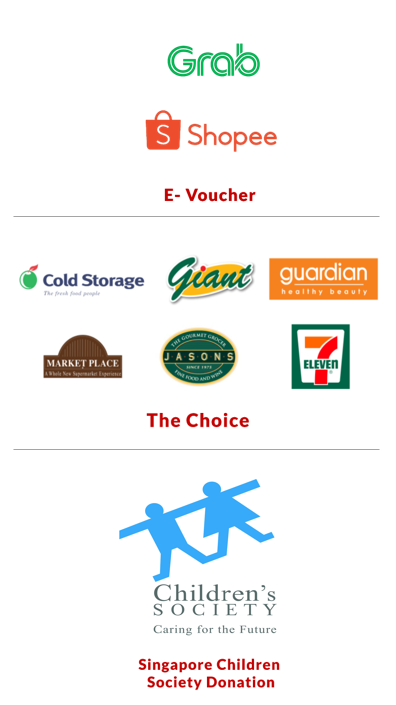 What Happydotters say
I have been with HappyDot.sg since 2016 and I have received more than $40 worth of rewards so far! I highly recommend this community! - Leanne, 20s, Female
Provided insights that broadened my horizons. Surveys are easy to do and the interface is easy to navigate! Interesting monthly infographics too! - Kenny, 20s, Male
What I like most about HappyDot.sg is that I am able to do simple surveys, get points, and redeem vouchers! It is also important to know Singaporeans' thoughts (on things) that impact us which will affect what we will need to do for the future of Singapore. -Shixian W. 40s, Female
Frequently Asked Questions
1. What is HappyDot.sg?
HappyDot.sg is an exclusive online survey community for Singapore residents. We are a channel for you to voice your opinions on real issues that impact life here on this little red dot.
We celebrate diversity and aim to inspire a better future for you and for Singapore – one survey at a time. Our survey topics touch on hot-button issues such as education, digital tech, and climate change – just to name a few!
Click here to join us now and let your voice be heard!
For other queries about HappyDot.sg, do drop by here to know more about us!
2. What do I get for signing up?
All new signups will receive a $10 Welcome Gift voucher! You get to choose between a McDonald's, The Choice, or a Takashimaya voucher.
On top of that, we're giving you 3x $3 Gong Cha vouchers! It's time to treat yourself (and your friends) to a drink or two 😉
 3. How do I qualify for this signup promotion?
For this campaign, we are looking for:
Singaporeans or Permanent Residents
Aged 15-19 years old.
You cannot be a current HappyDotter
In the unfortunate event that you do not meet the above-mentioned criteria, HappyDot.sg reserves the right to void your registration for this campaign.
4. What are the steps required during the registration process?
Step 1: Sign up through this link: https://www.happydot.sg/take-surveys-get-rewarded-signup-youth/
Step 2: Verify your Email Address
Step 3: Receive and complete a short Welcome Survey
Step 4: Select $10 Welcome Gift
Step 5: Receive Welcome Gift and $9 Gong Cha vouchers from our HappyDot courier 
All new members must sign up through this campaign's signup link and complete Step 5 to be considered as a successful registration.
5. What if I am aged 20 years and above? Can I still sign up?
Yes, you can! However, you will only be eligible to receive the $10 Welcome Gift vouchers – just not the Gong Cha vouchers.
6. What if I am below 15 years old? Can I still sign up?
HappyDot.sg is for Singapore residents aged 15 years and above. Hence, you must be aged 15 and above to be able to join the community.
Do signup with us again once you've passed your 15th birthday! We look forward to having you onboard on our journey to inspire a better future for Singapore 😊
7. What is the timeline for this campaign?
Registrations run from 25th February to 5th March 2021.
The last date for registration is on 5th March 2021, or when 30 signups have successfully joined the community as full members – depending on which happens first.
Thus, do remember to signup before then!
8. Any Terms and Conditions for the Gong Cha vouchers?
The vouchers are valid for one year and are redeemable for all outlets except SUTD.
Only one voucher may be used per transaction.
For more information, refer to the image below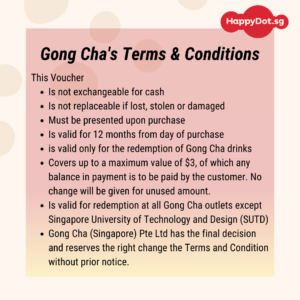 9. Will I receive referral points for referring someone under this campaign?
Referral points will not be awarded for referring friends and family who signed up under this campaign. However, your referral efforts will make a difference in the community 🙂
If you have any questions regarding the campaign, do drop us an email at Enquiry@HappyDot.sg and we'll be happy to help.