Known as a 'Garden City' to both locals and foreigners, it is no surprise that Singapore has always been making active strides towards being eco-friendly. Given the fact that climate change is an emerging social issue in Singapore and all over the world right now, reducing our environmental harm has become more important. Being eco-friendly is not just about small actions like recycling or using less plastic products, but also involves large-scale initiatives such as urban planning. In that aspect, Singapore has been implementing several measures to encourage a more sustainable and eco-conscious way of living – particularly for transportation.
Singapore's Sustainable Transportation Initiatives
While Singapore has consistently ranked highly in terms of having an efficient and affordable transportation system, it also contributes to one of the biggest carbon footprints. Thus, to ensure a cleaner and greener future for Singapore, having sustainable and eco-friendly transportation is crucial. As such, Singapore's Ministry of Transport (MOT) has decided to take a three-pronged approach to address the issue adequately.
The first prong is enhancing public transportation by increasing transport networks and capacities. This means building more train stations and bus-stops and adding more trains and buses. Subsequently, many HDB estates will be within a 10-minute walking distance to a train station and bus-stops can be placed around 400 metres apart – helping to improve the accessibility of our public transport. In comparison to cars and motorbikes, having a good public transportation system is the most efficient use of resources as they can carry thousands of people at once. Not only does it reduce our environmental impact, but it is also the perfect solution for land-scarce Singapore. This measure has seen the most success, as shown by our quick polls, in which 40% of respondents take public transport daily and over 50% prefer it over private transport!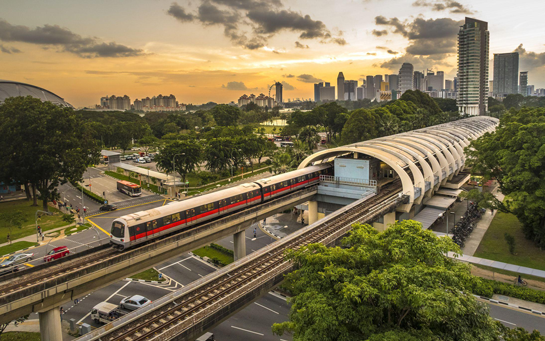 Reducing the carbon footprint of our transportation is an incredibly important social issue in Singapore as it directly affects air quality. That's why the second prong is about improving our resource efficiency by reducing vehicle population growth and utilising energy-efficient fuels to power vehicles. This has resulted in the annual allowable car growth being reduced to zero in 2018 and the implementation of the Vehicular Emissions Scheme (VES) to encourage people to buy eco-friendly cars. In addition, through the Land Transport Authority's (LTA) Green Framework, hybrid and electric vehicles are slowly being introduced into our public transport system. Through these initiatives, air pollution will be greatly reduced and so will our environmental impact.
To further promote efforts in reducing dependence on private transport, the third prong touches on achieving cleaner transport. This means making green commuting options such as walking, cycling, and ride-sharing services more appealing to Singaporeans by building better infrastructure. Especially since many have provided feedback that our cycling infrastructure still has room for improvement, we still have a long way to go in this aspect. Nevertheless, it is good to see that we have been steadily making progress and we can continue to do so.
Encouraging An Eco-Friendly Singapore
As a famous environmental activist, Greta Thunberg, once said, "You are never too small to make a difference." As such, while it helps that we have so many green initiatives in place, we should also play an active role in encouraging an eco-friendly Singapore. If all of us were to take simple steps like participating in a beach clean-up or using reusable grocery bags, we have the potential to create a positive collective impact. It is our mindsets and willingness to work towards creating a sustainable future for everyone that is the key element.
Want to learn more about various social issues in Singapore? Become a part of our HappyDot.sg community and take part in various surveys and quick polls to find out more!