About HappyDot.sg
What is HappyDot.sg?

HappyDot.sg is an exclusive online survey community for Singapore residents. We are a channel to voice your opinions on real issues that impact life in Singapore. Our survey topics range from hot-button issues and social trends to national concerns about housing, healthcare, employment and our aspirations for Singapore's future. Click here to join us now and let your voice be heard!

Why do we call it HappyDot.sg?

HappyDot.sg was created to reach out to all Singapore residents and provide a platform where they can share their thoughts and feelings about living in this dot we call home.

Through our surveys and research, we aim to draw meaningful and impactful insights about life in Singapore today and how it can be improved in the future.

How is HappyDot.sg different from other online survey platforms?

HappyDot.sg is the first online survey community exclusively for Singapore residents. The surveys on HappyDot.sg focus on what people think and feel about social and public issues in Singapore, with the aim of creating a better future for all of us. Find out more about our survey results here.

Is HappyDot.sg a scam?

HappyDot.sg is a company registered with the Accounting and Corporate Regulatory Authority (ACRA). We are a local Singapore organisation that focuses on conducting social research.

Who is the research on HappyDot.sg for?

Some of the surveys we conduct are on behalf of organisations with an interest in specific social issues. The HappyDot team also conducts our own surveys to find out how Singapore residents like yourself feel about a range of everyday topics.

Our HappyDotters are given exclusive access to some of these research findings via newsletters or the HappyDot.sg portal. Click here to join our HappyDot family if you have yet to do so!

How does HappyDot.sg work?

Survey invitations are sent via email to our HappyDotters. Interested HappyDotters can complete the survey by following the link included in the invitation, or by logging into their HappyDot.sg account. Hop on here to find out what makes HappyDot.sg tick!

For every survey completed, HappyDotters will earn HappyPoints which can be accumulated to redeem various rewards and giveaways.

How do I join HappyDot.sg?

Click here to join our HappyDot family if you have yet to do so!

How to contact us?

You can fill up the Contact Us form or email us directly at Enquiry@HappyDot.sg. We will do our best to reply to you within three working days.
Registration/Membership
Who can sign up to be a HappyDotter?

Any Singapore citizen or Permanent Resident above 15 years of age with a valid email account can sign up to be part of our HappyDot.sg online community.

Is registration free?

HappyDot.sg is open to all Singaporeans and Singapore Permanent Residents above 15 years of age. Registration is free.

How long will the registration process take?

A typical registration process will take around 3 weeks to complete. We will have to factor in the time taken for your welcome gift voucher to be processed and its delivery to be arranged at your convenience.

I have a friend who wants to become a HappyDotter, how can he/she sign up?

Anyone interested to be a HappyDotter can register their interest with us. Existing HappyDotters can also refer their friends through our member referral programme to earn HappyPoints.

Why do you need to see my photo identification as part of the registration process? / Why can't my family member collect the welcome gift for me?

This is to allow our HappyDot courier to verify your identity in person and to ensure that the voucher is passed to the intended recipient. It is part of our process and we appreciate your understanding and cooperation.

How can I update my profile?

To update your profile, log in to our website and click on "My Profile". Alternatively, profile updates can be done by participating in our surveys or by writing in to Enquiry@HappyDot.sg.

Why can't I log into my account?

To be able to log in to your account, you will need to complete our registration process and set a unique password. You will also need to have your welcome gift delivered before becoming a full member.

If you have forgotten your password, click on Forget your Password and follow the instructions to reset it.

Why can't I re-register with HappyDot.sg?

Kindly note that each HappyDotter can only have one email account with us. If you have accidentally unsubscribed before completing your registration, please write in to us to reactivate your account.
Participating in Surveys
What are the kinds of survey topics that I can expect?

HappyDot.sg conducts surveys about anything that touches the lives of Singaporeans. Some of our previous survey topics include healthcare, transport and lifestyle. Read about the views of fellow HappyDotters in these past survey findings.

How can doing a survey change Singapore?

The surveys help to gather feedback from Singapore residents on how they feel about important issues that affect Singapore's happiness and future. The responses are analysed and the findings are shared with relevant organisations for their future plans and initiatives.

Will the surveys be difficult?

Our surveys are usually in the form of multiple-choice questions. There are no right or wrong answers and HappyDotters are simply encouraged to provide their honest opinions. Each survey will typically take 8 – 15 minutes.

What is the typical length of a survey?

The length for each survey varies, depending on the topic. However, we try our best to keep our surveys short. Each survey typically takes about 8 – 15 minutes to complete.

How many emails will I expect to receive?

You may expect to receive about 2 – 3 emails per week. These mainly consist of survey invitations, HappyDot.sg research findings and promotions.

How do I opt out of HappyDot.sg's emails?

You can opt out of our emails by clicking on the "Unsubscribe" link in the emails. Alternatively, you can drop by notifications to change your email settings.

If you have not completed your registration process, kindly note that you will be removed from all HappyDot.sg communications and will have to write in to us.

Why did my friend receive a certain survey while I did not?

From time to time, surveys may be sent to different groups of people based on the requirements of the research. Hence, every HappyDotter may receive a variety of different survey invitations. Look out for our next survey invitation in your inbox!
Points and Rewards
How do I earn HappyPoints?

For each survey completed, HappyDotters are awarded HappyPoints. Depending on the topic and the length of the survey, the HappyPoints awarded may differ. You can also refer family/friends to earn even more points! HappyPoints can be used to redeem a variety of rewards.

Check out our rewards page for examples of the types of rewards currently available.

How many HappyPoints can I collect?

There is no limit to the number of HappyPoints you can collect.

What is the minimum points required to redeem rewards?

You only need 500 points to start getting rewards. Check out the rewards available here. The more surveys you do, the more points you will get. You can also refer family/friends to earn even more points!

Is there an expiry date for the points?

As long as you are an active member of HappyDot.sg, your points will never expire. Members only need to complete 2 surveys per year to stay active. Inactive members will be contacted via email to reactivate their membership.

How do I refer my friends/family?

To refer your friends, simply follow the steps below!

1. Log into your HappyDot.sg account.

2. Go to Refer-A-Friend page on our website

3. Enter and submit your friends' names and email addresses.

4. Your friends will receive an email from the HappyDot Team inviting them to join the HappyDot.sg family.

Please note that you can only start referring your friends and family after you have received your welcome gift and gained full access to your account.

How many points can I get from referring my friends/family?

As a member of HappyDot.sg, you will earn between 50 to 150 points for every friend you refer to join our HappyDot.sg community. Head over to Refer-A-Friend page to find out more.

Do note that you can only start referring your friends and family after you have received your welcome gift and after gaining full access to your account.

When will my referral points be credited to my account?

After your friends have signed up and completed their registration by receiving their welcome gift, referral points will be credited into your account after about a week.

Please ensure that your friends have signed up through your unique referral link in the email sent to them, titled "(Your Name) invites You to be a HappyDotter!".

What rewards do you offer?

We offer a variety of rewards. Please refer to our rewards page for the full list.

Can I change my voucher after I have submitted my request? (Applies to both your welcome gift and redemption gift)

Vouchers cannot be changed after they have been requested. However, you can aim towards your next redemption by earning more points. See what vouchers you can aim for here.

Is there an expiry date for the vouchers?

Most of our e-vouchers have an expiry between 3 to 6 months from the issue date, so be sure to take note of when the voucher was issued to you.
E-Vouchers
How do I redeem the E-Voucher?
Simply follow the steps below:
1. Login to your HappyDot.sg account
2. Click on your name at the top right corner
– For mobile users: click on the 3-lined icon, tap on the down arrow next to your name
3. Pick 'Redemption Cart'
4. Choose your reward category by clicking on the merchant logo image
5. Select the specific reward and click 'Proceed' button
6. Check your email for the One-Time PIN generated
7. Enter One-Time PIN and click 'Verify' button to confirm redemption
Note: Your E-Voucher will be sent to your registered email address. Do check your inbox.
Here's a demo showing you how to redeem:
Desktop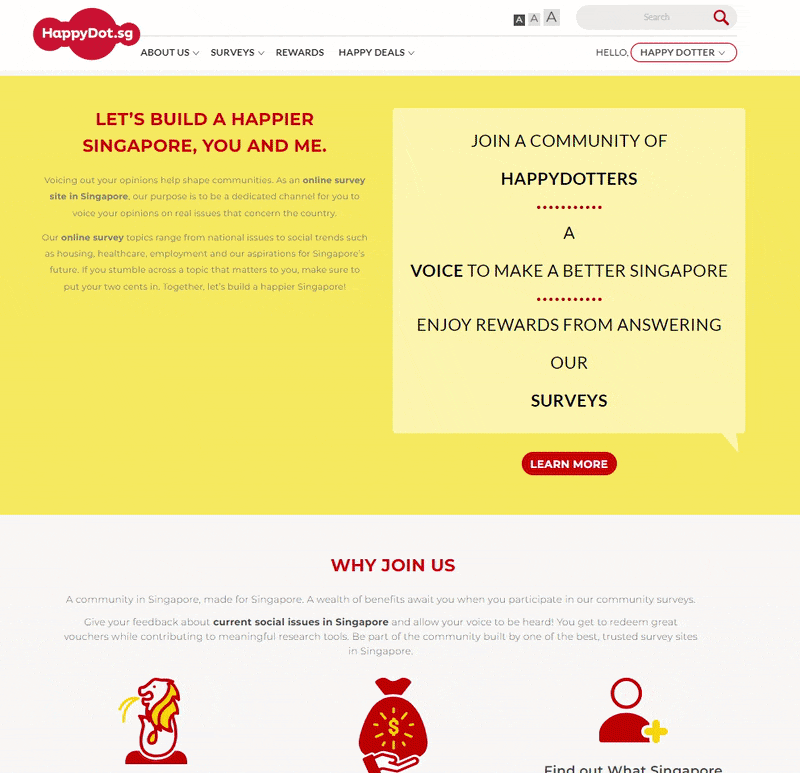 Mobile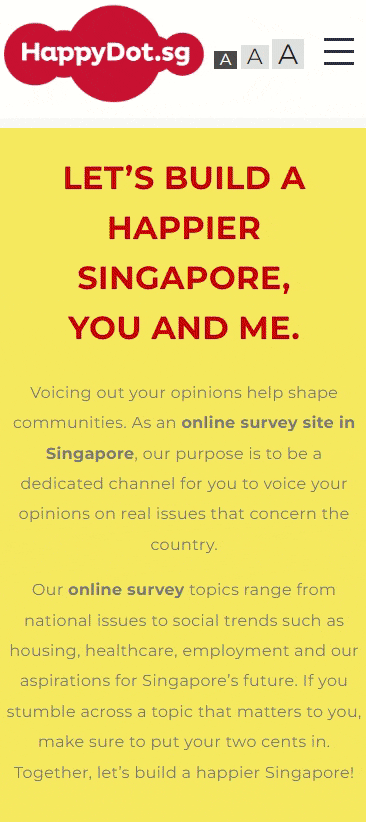 Data Verification, Privacy and Protection
Will my personal information or contact details be sold to anyone?

HappyDot.sg abides by the Singapore Personal Data Protection Act (PDPA) 2012 and is committed to protecting the personal information of our HappyDotters and research participants. We will not share your information with any third party without your permission. We will also not sell your personal data or contact details to anyone.

Please refer to our Privacy Policy for more information.

Will I be identified from my survey answers?

HappyDot.sg adheres to social research standards and ethics, which includes protecting the anonymity of our research respondents. Any personal information we have collected from you is kept strictly confidential.

Some of the research on HappyDot.sg may involve analysing the demographic and/or household information that you provide to us during registration or as part of your account profile. In these cases, your personal information will be separated from your survey answers and the data made anonymous before analysis. HappyDotters will not be individually identified or tagged to their survey responses.

Why do I need to provide information like my age, income range and other personal or demographic details?

HappyDot.sg is dedicated to being a platform for all Singapore residents to share their views through online surveys or polls. We collect personal and demographic information for 3 important purposes:

To ensure that there are no fraudulent memberships which could ultimately compromise the integrity of the research.
To make sure that the right surveys go to the right person. Understanding your profile will ensure that we do not send surveys to members who are not eligible – for example, sending a survey about childcare options to someone without any children.
To ensure we gather inputs from all profiles of Singapore residents so that the research reflects the views of Singaporeans from all walks of life.

Collecting this information is critically important to ensure the feedback and research on HappyDot.sg reflects Singaporeans' real feelings and opinions.

Please be assured that the privacy and confidentiality of our respondents' personal data are important to us. As a professional research company, we adhere to the Singapore Personal Data Protection Act (PDPA) 2012 as well as social research standards and ethics.

See our Privacy Policy for more information.

Someone from HappyDot.sg asked me to verify my information. Why? How do I know this is not a scam?

HappyDot.sg is serious about ensuring the authenticity of our members and the accuracy of our data. HappyDot.sg conducts verification checks during registration and from time to time to ensure that:

There are no fraudulent, duplicate or automated / bot registrations, accounts, or data.
Members that sign up are Singapore Citizens or Singapore Permanent Residents.
Incentives and rewards are delivered to the correct individual.

We are also committed to protecting your confidential information. Please note that:

Verification checks are only conducted by authorised HappyDot.sg representatives.
You may confirm the credentials of our HappyDot.sg authorised representatives by contacting us at Enquiry@HappyDot.sg.

For your protection, please also note that HappyDot.sg and our authorised representatives do not:

Request for your bank account or credit card information.
Record or retain your NRIC number.