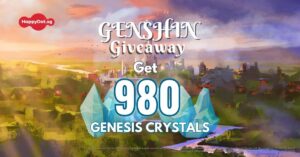 Fans of the popular RPG Genshin Impact are in for a treat!
From 6 – 16 June 2023, receive 980 Genesis Crystals when you sign up with HappyDot.sg
If you are an existing HappyDotter, receive 980 Genesis Crystals on top of the usual referral points by referring 3 friends who are aged 15 – 19!
---
Referring is easy:
Log in to your HappyDot.sg account. 
Select the 'Happy Deals' tab.
Choose 'Refer-A-Friend'.
Scroll down and submit 3 of your friends' names and email addresses.
Check the box indicating that you would like to opt-in for this Game-ON! Moment sign-up giveaway if you would like to receive 980 Genesis Crystals.* 
In turn, your friends will also get 980 Genesis Crystals and a $10 Welcome Voucher each upon successful registration**. What's there not to love? Hurry refer your friends by 16 June 2023, 6pm.
Even if you do not have anyone to refer you, don't sweat it. You can still get the 980 Genesis Crystals and the $10 Welcome Voucher by signing up via the campaign link on our bio of our Instagram account @happydotsg
Steps to participate in the sign-up giveaway:
Visit our Instagram page @happydotsg and click the link in our bio. (Note: Kindly use the link in our IG bio only to sign up.)
Complete the Welcome Survey on HappyDot.sg
Complete the verification required to collect the $10 Welcome Voucher from us, and receive your 980 Genesis Crystals.
Bonus: Follow @happydotsg on Instagram to find out about the other giveaways we would be launching this year!
This exclusive time-limited deal won't be here for long, so hurry and sign up as a HappyDotter by 16 June 2023, 6pm. Don't let this opportunity slip away!
* You are only eligible to receive 980 Genesis Crystals if all 3 of your referred friends are 15-19 years old and have completed the Welcome Survey and received their $10 Welcome Voucher in person from our courier.
** Referees must sign up using the link sent to their email from HappyDot.sg only. Referees will not be able to redeem the 980 Genesis Crystals if they do not sign up from the dedicated link sent.