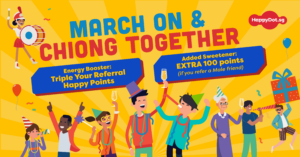 TRIPLE HAPPY POINTS for you, when you refer a friend to sign up this March.
Want more? On top of this, get 100 extra Happy Points for every male friend you refer.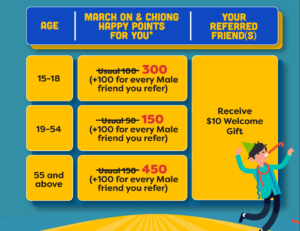 This speeds up your Happy Point earnings, even if you only complete a few surveys! So you can chiong your way to more rewards for GrabFood, eCapitaVouchers, and more.
Referring is easy:
Log in to your HappyDot.sg account.
Select the 'Happy Deals' tab.
Choose 'Refer-A-Friend'.
Scroll down and submit your friends' names and email addresses.
In turn, your friends will also get $10 Welcome Gifts each, upon registration. Hurry! You can refer a friend until 31 March 2023. Being a HappyDotter has never been this rewarding.
For more information on the promotion, click here.