Things just keep getting better around here in our HappyDot.sg community – NEW enhancements have been added to our site and we'd love to share them with you!
Ready for a quick tour of our improved website?
Read on!
First stop: HappyPoints History!

Ever had enough of not knowing how much HappyPoints you've earned or spent?
You can now check your HappyPoints history and view your past HappyPoints related activities for the past 1-month by following this simple guide:
1. Login to your HappyDot.sg account
2. Click on your name at the top right-hand corner
– If you're using a mobile phone, click on the 3-lined icon, and then click on the down arrow next to your name
3. Select 'Points History'
Next stop: Membership Programme and its Benefits!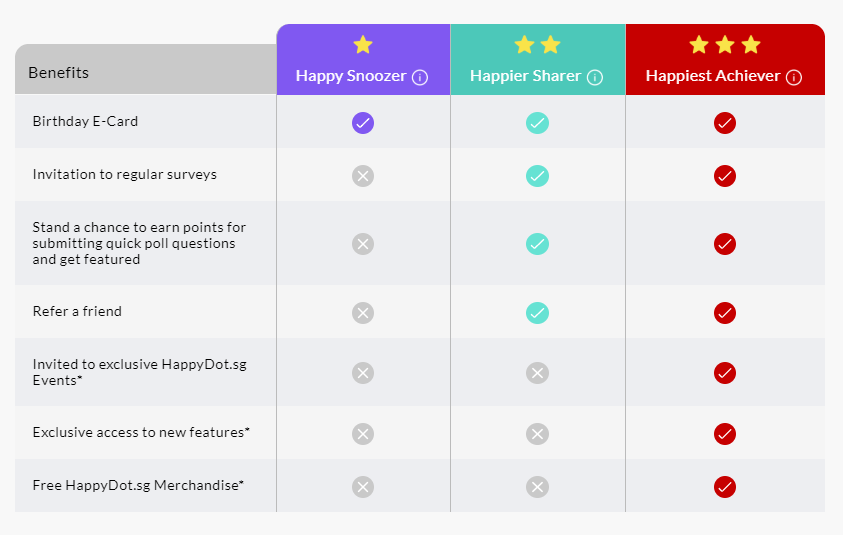 Next, drop by our freshly minted membership programme located here.
Complete at least 1 poll every month to become our 'Happiest Achiever' and enjoy the full array of our membership perks!
Psst, now you know the way to get invited to our next exclusive HappyDot.sg event 😊
We're continually upgrading our platform to make it a better place for you!
There are more exciting updates coming soon, so make sure you stay tuned!
Till then, stay Happy and safe!