Many of us hold fond memories from our school days. When were the best memories formed? We asked Singaporeans in this month's Quick Polls!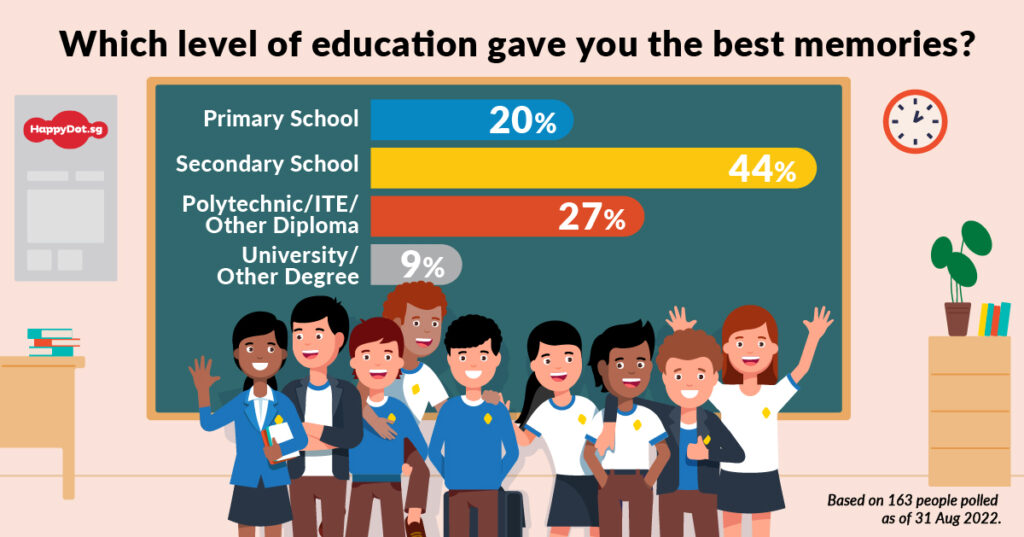 The majority (44%) of those we polled feel that their best memories were from secondary school. This is not surprising, as these are the 'growing up years', when young people form solid friendships and build their own unique identities.
Those who said university/other degree gave them their best memories make up the smallest percentage (9%). Tertiary level, being the final stage in a student's educational journey, can be a stressful time as people immerse themselves in the rat race to achieve the best results. The most salient memories from this time could be more about competition and hard work.
Moving on to the little ones… 1 in 5 (20%) say primary school is where they had their best memories. Among all the educational levels, primary school is perhaps the most carefree period, when fun and games with school mates take centrestage. Nowadays, life in primary school is also getting more interesting, with the shift towards going online to help students develop digital competence. Students now submit more of their homework online.  
Do you think it is a good idea for lower primary students to have more online homework than physical worksheets?
Based on 151 people polled as of 31 August 2022
Most people (7 out of 10 we polled) are not in favour of having more online homework for lower primary students. Perhaps this is because students of this age may not be as tech-savvy as older students. While the push to go digital in schools is moving with the times, nothing beats face-to-face interactions, which are likely to form the best memories from our school days 😊.