Transport has always been part and parcel of our lives. Over the past few decades, Singaporeans have witnessed the evolution of various modes of transport in Singapore. With our existing transportation network offering access to every corner of the island, it makes getting around the city-state a breeze.
In this month's Quick Polls, let's take a peek at what people think about transport in the past and future!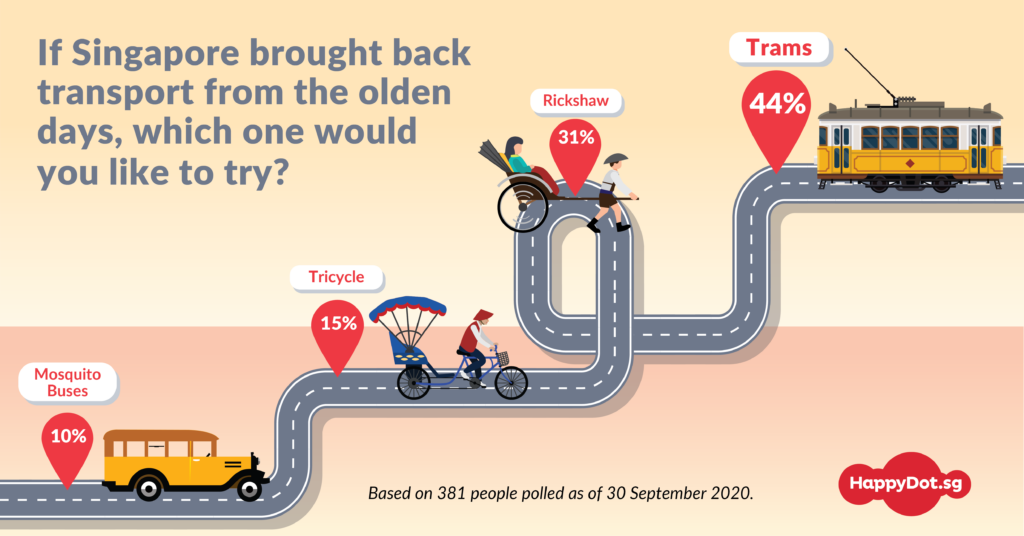 44% of respondents who participated in this Quick Poll picked trams as the mode of transport that they would like to try if they had the chance to.
Fun Fact
Did you know that trams were one of Singapore's earliest modes of public transportation launched back in the 1880s?
1
Would you ride a driverless car?
Based on 401 people polled as of 30 September 2020.
Fast forward to the 2020s and driverless vehicles will soon be within reach of Singaporeans.
However, it seems that those who responded remain on the fence about whether they would ride in a driverless car or not.
To find out the reason why, the HappyDot.sg Team decided to conduct a full-fledged survey for us to dig further.
Do hang around this space for more answers!