Due to the COVID-19 pandemic, leisure travelling has mostly come to a halt, which has caused many people to miss it even more. While being unable to travel may not be as important as other social issues that we are currently experiencing because of the pandemic, the benefits of travelling for relaxing and relieving stress are worth paying attention to. With the current global health crisis causing a lot of stress for many people, it is crucial that we have an outlet to escape our worries. So, although we are unable to travel overseas right now, here are some ways that you can still play 'tourist' on our sunny little island!
How To Satisfy Your Wanderlust In Singapore
In a previous article, we discussed some of the reasons that make Singaporeans love travelling so much. For instance, travelling allows us to purchase cheaper goods, experience new cultures, and a chance to unwind! Thankfully, there are alternatives that we can explore in our sunny little island and it might even lead you to find out something new about Singapore.
1. Budget Shopping Options Available In Singapore 
If you miss travelling overseas because of the chance to buy goods at a lower price, you can easily replicate that experience with e-commerce websites! Not only do such platforms offer a wide variety of products from around the world, but their prices are also relatively affordable. It is no wonder that the demand for e-commerce websites has been increasing in recent years. What's more, you can even redeem Shopee vouchers here from HappyDot.sg to enjoy better deals on your next online shopping spree!  
Besides online shopping, there are also 'offline' shops that sell low-cost goods right here in Singapore. For essential items such as groceries, wet markets are the best places to visit. These marketplaces often double as spaces that encourage social cohesion – with neighbours catching up with each other (with safe distancing) while haggling over the price of fish or vegetables. Considering that a HappyDot.sg online survey revealed that at least 79 per cent of respondents rarely or do not keep in contact with their neighbours (based on a nationally representative sample of 1520 HappyDotters in July 2017), taking a trip to a wet market might just remedy that situation! 
For cheap clothes and accessories, look no further than thrift stores, which have also gained popularity in recent years. Whether you are looking for vintage pieces or last season's items, there are numerous thrift stores that carry a treasure trove full of interesting goods. While it does take a bit of effort to dig through all the items, with a little bit of hard work, you may just be able to find a one-of-a-kind piece! 
2. Doing New Activities In Singapore 
Singapore may be small but that does not mean that there is little else to do here. As a culturally and racially diverse country, Singapore offers numerous places of worship situated near each other that one can easily visit. While entry may be restricted due to current pandemic measures, you can still marvel at the beautiful architecture of these places. Moreover, there are plenty of cultural workshops and online concerts that you can attend that will allow you to know more about a certain culture through its cooking, practices, and art! 
For the adventurous ones, did you know that many places in Singapore offer novel experiences from playing Virtual Reality (VR) games to bungee jumping? Alternatively, you can also embark on the Coast-to-Coast Trail, a 36-kilometre long hiking/biking trail that spans across Singapore and discover our country's amazing flora and fauna. Or why not try island-hopping amongst the Southern Islands of Singapore? From this, it is evident that there are various activities and cultures that one can still experience in our not so 'Little Red Dot.'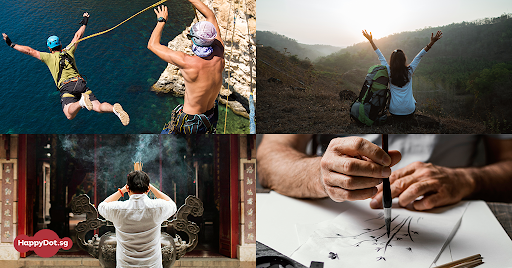 3. Rest And Reboot In Singapore
Travelling overseas is a source of relaxation for Singaporeans because it enables them to physically escape their worries and carve out time to spend with their loved ones. Thankfully, you can still do that even in Singapore through 'staycations' at hotels and cruise trips to nowhere! In fact, many high-end hotels and cruise lines are offering their services at discounted rates so that you can easily relax and bond with your loved ones while enjoying high-quality amenities. 
Rediscovering Singapore 
With the extension of the SingapoReDiscover vouchers to 31st December 2021, there is little excuse for Singaporeans not to experience the wealth of activities we have here. Not sure how to redeem the vouchers? You can visit the SingapoReDiscover vouchers website and follow the instructions there. Alternatively, community centres have physical counters where you can approach the staff for assistance in booking your preferred activities. From hotels and theme parks to cultural workshops and cruise trips, these vouchers allow you to unlock new experiences and witness a side of Singapore that you might not have seen before. So, what are you waiting for? It is time to rediscover Singapore! 
Want to be part of an online community where you can learn more about current social issues in Singapore? Join us at HappyDot.sg to take part in online surveys and quick polls!