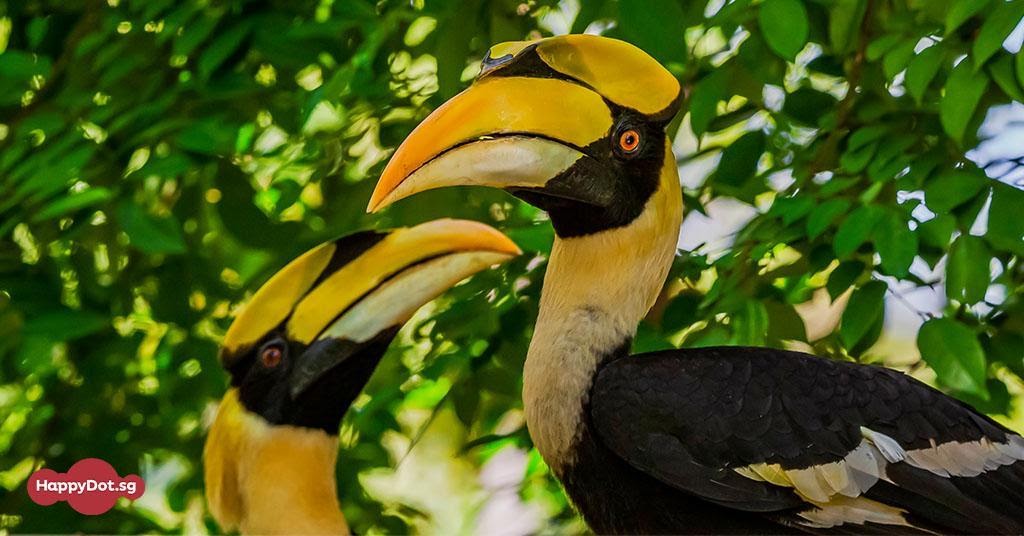 Singapore has the highest urban population in Southeast Asia with approximately 5.9 million people. However, despite being highly urbanised, Singapore is still home to a myriad of plant and animal species with about 2000 native vascular plant species, at least 1000 animal species and at least 250 coral species. This is a result of Singapore's tropical climate, lush greenery, and prime location. It is also largely due to  the variety of green policies that have been implemented to conserve and increase our biodiversity over the years. In fact, Singapore has increased its green cover from 35% to 46% between 1986 and 2007. 
As conservation of the environment is one of the current social issues faced in Singapore, the National Biodiversity Strategy and Action Plan (NBSAP) was launched in 2009. This national document provides a framework to guide biodiversity conservation efforts in Singapore. As Singapore is a densely populated country with few remote lands, we must bear in mind to adopt realistic and unique approaches. This includes balancing nature conservation efforts with urban and economic demands. 
Pulau Semakau Coral Nursery Project 
One of the ways in which Singapore has combated current environmental social issues and preserved biodiversity is through the Pulau Semakau Coral Nursery Project. In 2007, the first coral nursery was launched in Singapore at a site off Pulau Semakau. 
Coral reefs are extremely important to our environment as they protect coastal areas and provide an ecosystem for life underwater, supporting more species per unit area than any other marine environment. 
The coral nursery at Pulau Semkau enables us to proactively enhance existing marine habitats by maximising the survival of naturally occurring corals. It aims to grow as many hard coral fragments as possible. Suitable candidate species for propagation of coral colonies will be grown to sufficient size and transplanted to coral reefs off the southern coast of Singapore to enhance the ecological health of these coral reef habitats. The suitable candidate species will be collected from existing reefs at Pulau Semakau and other reefs in Singapore. 
The result? Today, Singapore boasts high biological diversity with almost 200 species of reef-forming hard corals, accounting for about 25% of the global total species.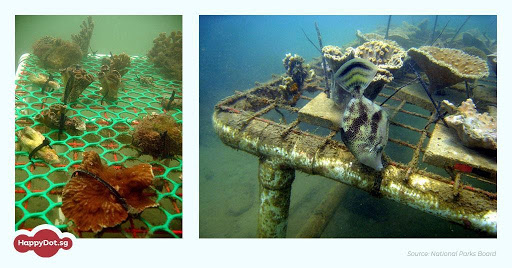 Additional Measures to Preserve Coral 
Beyond the Pulau Semakau Coral Nursery project, NParks has implemented extra measures to aid in the current environmental social issues in Singapore. This includes monitoring local corals' response to bleaching and safeguarding locally rare species by moving them into controlled environments or deeper waters with stronger currents. Increasing the number of individuals of each coral species also ensures the long-term sustainability of corals in Singapore. This is done through NParks programmes such as Plant A Coral, Seed A Reef. With a donation, organisations or individuals can "plant" a coral fragment, or sponsor artificial structures on which marine organisms can grow.
Pulau Ubin Ketam Mountain Bike Park
Prior to the development of this bike park, this area which is located around the fringe of a quarry in Pulau Ubin was not occupied for any usage purpose and remained barren due to past granite quarrying activities. To encourage biodiversity conservation, it has been transformed into a bike park and is in fact, the first bike park in Singapore to meet international standards for mountain biking competitions. The re-landscaping has not only aided in nature rehabilitation and conservation, attracting wildlife such as the red-wattled lapwing, baya weaver but has also been reforested with over 2000 native shrubs and trees creating habitats for biodiversity like different species of birds, butterflies and dragonflies.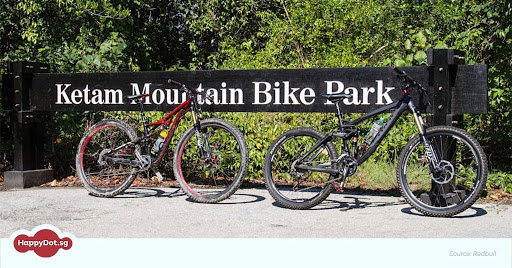 Red Data Book
Though the implementation of green policies has helped resolve some of the current social issues in Singapore with regards to the environment, organisations should still be willing and proactive participants. To encourage this, several publications with regards to the biodiversity in Singapore have been published, one of which is the Singapore Red Data Book (RDB). The RDB provides a good source of information on Singapore's natural heritage. It serves as a valuable reference book for nature conservation planning and guides the efforts and actions of various governmental and non-governmental organisations. For students and researchers, it is an indispensable resource that promotes understanding and appreciation of Singapore's diversity. Knowledge and education fosters action and change; this is where the RDB proves to be highly useful in contributing to conservation efforts.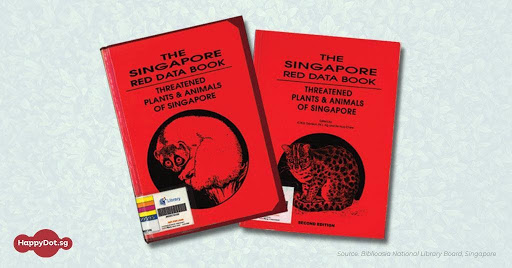 Going Green: A Collective Responsibility
Unfortunately, despite the measures taken to conserve Singapore's biodiversity, there are instances where Singaporeans still fail to comply with the rules, harming our ecosystem instead of revitalising it. HappyDot.sg's online survey in Singapore revealed that 50% of participants tend to ignore litter on the ground.
Moreover, a Facebook post about the treatment of marine creatures by Changi Beach visitors recently has gotten wildlife enthusiasts riled up. In the post, it was noted that groups of beach goers, armed with shovels, tongs and pails, were digging up holes, "searching for marine creatures and wrecking the entire shore". Among the creatures they collected were crabs, fish, shells, sea cucumbers, eels, jellyfish and sea anemone. Putting these marine life into buckets with other creatures can cause stress or harm to them. Apart from harming the creatures, such actions might also destroy natural habitats, which can be detrimental to the ecosystem. 
Research has shown that a rich biodiversity positively impacts our quality of living and as seen, Singapore on the whole has done well in conserving our rainforests and marine life. However, it is not enough for organisations to contribute solely. When it comes to bettering the environment, each and every single individual must play their part. Every simple action such as recycling or even appreciating wildlife from afar and not disrupting their habitats helps. A heartening survey in Singapore polled 9 in 10 people recycle! Let us all do our part in building a greener, healthier world.
Be part of our online community today where you can participate in polls, online surveys and learn more about current social issues!