Many of us were likely to have begun this year with optimistic hopes for the coming months. With the new year and the beginning of the new decade, it looked like it was going to be good. When the news about COVID-19 first broke out in January, it seemed that it was well-contained. However, by the end of March, many countries started implementing travel restrictions and it became apparent that many things would have to change to combat the virus effectively. Considered to be one of the greatest global health crises in decades, the pandemic has brought to light many serious social issues that Singapore and countries around the world are still struggling to resolve.
In Singapore, much of life came to a standstill during 'Circuit Breaker'- that started in April and lasted until the end of May. During that time, all non-essential businesses were closed and everyone was encouraged to stay home as much as they could. We are now in Phase 3 – with most businesses slowly resuming operations, safe distancing measures being enforced, and limits placed on gatherings, but the pandemic is far from over.
The Impact of COVID-19 on Singaporeans​
Before we can continue tackling the pandemic, we need to understand its impact on Singapore this year. This way, we may be able to come up with better strategies that will lessen our weaknesses and play up our strengths. In general, the impact of COVID-19 was felt in 3 main areas: health, economic, and emotional.
1. The health impact of COVID-19
As a highly contagious virus, the risk of contracting COVID-19 is always present. While many workplaces have been able to transition to working from home, the same cannot be said for businesses deemed as essential services. These businesses keep much of Singapore running – such as the transportation, water, energy, and healthcare industries. Healthcare workers are even more vulnerable to contracting the virus due to them spending so much time near sick patients. If not managed properly, the pandemic could be a huge strain on our healthcare system but thankfully, it has not reached that extent just yet.
On a more positive note, many people have begun to take their health more seriously – not only in terms of hygiene but also their physical health. During the Circuit Breaker, many started doing home exercises and continued after it was lifted.
2. The economic impact of COVID-19
With the Circuit Breaker causing many non-essential businesses to close, Singapore's economy took a hit as well. Not only did businesses slow down, but many people lost their jobs too. The manufacturing and tourism industries, two of the biggest contributors to Singapore's economy, took some of the largest blows due to the severe limits placed on international travel. With people earning less money, it became harder to make ends meet. While Singapore has done its best to reduce the economic effects by releasing 4 Budgets, this impact is still being felt until now. Arguably one of the most significant social issues, the economic repercussions of COVID-19 has to be managed carefully.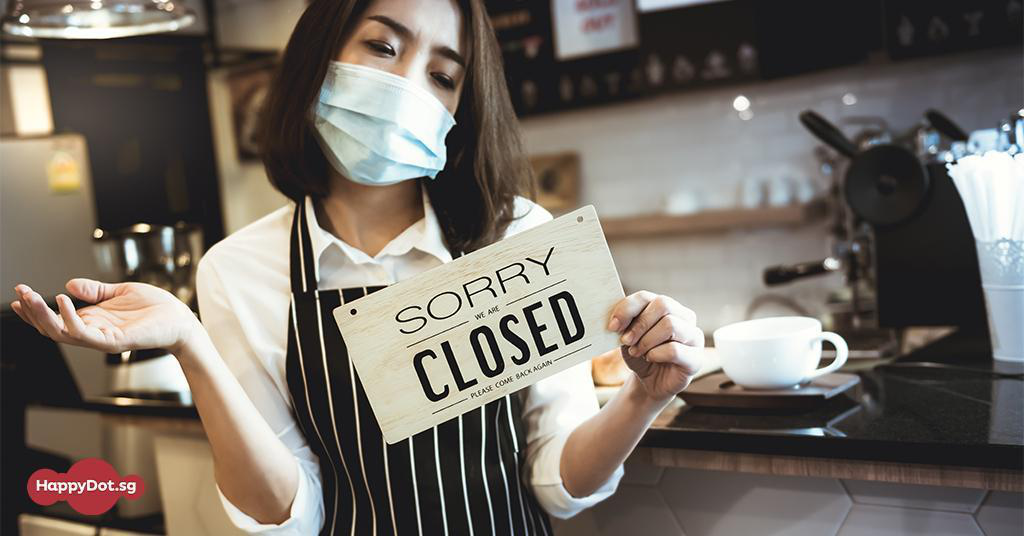 3. The emotional impact of COVID-19
During times of crisis, it is perfectly alright to be feeling a range of emotions as you try your best to process the situation. You may experience feelings of frustration, fear, and stress as you worry about the health of you and your loved ones and your financial situation. Our quick polls revealed that many respondents felt fear and sadness this year and many preferred to return to the pre-Circuit Breaker period. The National Care Hotline was set up to answer the mental and emotional needs of Singaporeans. Should you need someone to talk to about your worries about COVID-19, feel free to call the counselling service at the hotline.
Unfortunately, the unpredictability of the pandemic ending may cause a long-term emotional impact on Singaporeans. The best we can do right now check in on our friends and family to make sure that they are coping alright and seek professional help when things get overwhelming.
Navigating The 'New Normal'
The pandemic has had such an impact on our day-to-day lives that many have called this the 'new normal.' While Phase 3 holds promises of a vaccine and easing on social gathering limitations, we should still remain vigilant and practice social responsibility. Even though the future may look uncertain, with a little grit and resolve, we may just be able to take things into stride.